RamBikes Staff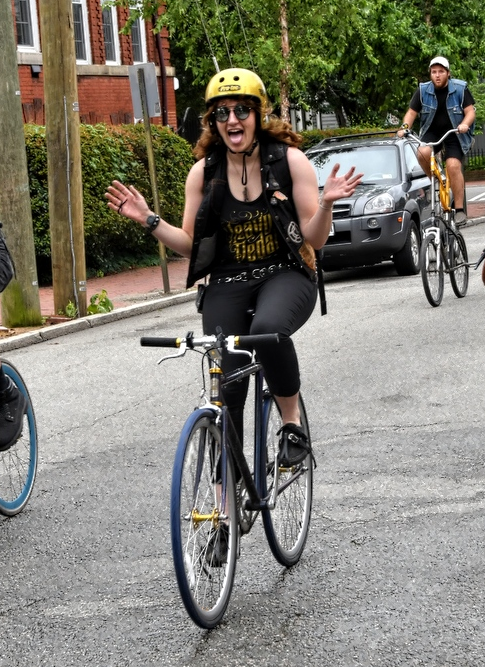 Sera (they/she)
+ Capricorn Sun / Leo Moon / Gemini Rising
+ ENFJ, known as "The Protagonist"
+ Type 1w2, known as "The Reformer" with a "Helper" wing
+ Gryffindor
Sera is the program coordinator of RamBikes and is interested in forming meaningful partnerships, teaching youth about bikes and music and creating new community programs. They volunteer at Rag & Bones bicycle cooperative in their free time, sing in a few bands and serve on numerous planning committees in the city. In their leisure time they read dystopian sci-fi, try to keep plants alive and happy, search for miniature things to look at and think about a world without surface level parking lots.
Alexa (they/them)
+ Scorpio Sun / Aries Moon / Virgo Rising
+ INFJ, known as "The Advocate"
+ Type 5, known as "The Mediator"
+ Ravenclaw
When they're not at RamBikes, Alexa spends their free time organizing in the community; specifically for immigrant justice and queer community spaces. Making spoke cards and riding bikes sparks much joy in their life. "La vida es un carnaval" has been, is, and forever will be their life motto.
Elise (she/her)
+ INFJ-Fe, known as "The Advocate"
+ Type 4w3 416 so/sx, known as "The Artist" with a "Motivator" wing
+ Ravenclaw
+ Virgo Sun / Aries Moon / Scorpio Rising
Elise is a passionate disability advocate and evangelist for electric bikes. Her favorite ride is crossing the Manchester Bridge into downtown Richmond at night. In her free time she serves as a mentor for Queer Catholics and falls into Wikipedia holes.