Upcoming Events
Group Rides // Workshops // Mobile Bike Repair
RamBikes staff hosts group rides, basic repair clinics, trips and other bike-related events throughout the year. Participation is open to all VCU students, faculty and staff and is free of charge! All programs at RamBikes are also open to the public. The Outdoor Adventure Program at VCU also hosts weekly mountain rides and hosts workshops for those with a membership to Rec Sports, which you can find information on here.
*Events with this symbol are those that can be counted for the Earn-A-Bike program
---
Local Group Rides
Check links below for updates!
RAR.RVA TWIG Ride // Mondays, 5:30 PM, Oregon Hill Overlook // Trans, Women, Intersex, Gender-nonconforming
Bike Monday Bros // Mondays, 5:30 PM, Starbucks on Robinson // People of Color & allies
DFLxRVA // Wednesdays, 8:30 PM, Federal Park // No-drop, all experience levels
Coqui Community JRPS Ride // Wednesdays, 6 PM, Coqui Cyclery // No-drop, groups for all levels
Broad St Bullies // Thursdays, 7 PM, Carytown Kroger // All invited
Basically a MTB ride // Thursdays, 6 PM, Basic City Brewery // Some MTB experience required
Black Girls Do Bike RVA // Third Thursday of month, 5:45 PM, Great Shiplock Park // Women of Color
Critical Mass RVA // Last Friday of month, 6:30 PM, Monroe Park // All invited
---
Workshops & City Rides
Below is the workshop schedule for Spring 2022. All workshops listed will meet at RamBikes, located at 1106 W Broad St. All workshops take place on the specified Thursday, from 5:30PM-6:30PM. You don't need to bring a bicycle, but if you have specific questions or fixes please bring yours! You are asked to register for these workshops. These are community workshops, they are all free and open to the public as well as VCU.
>> REGISTER HERE <<
Fall 2022 Workshop Schedule:
9/29/2022 -- Learn to Ride Class (no bicycle necessary)
10/13/2022 -- Fix-A-Flat
10/27/2022 -- Bike Maintenance 101
Read descriptions of all our workshops here!
RamBikes will be hosting two group city rides in the Fall to help you get acquainted with the Richmond area. These group rides will be lead by the staff, and will be around the campus and Fan area of Richmond. If you want to go on more evening group rides around Richmond check out the list above. These two rides will specifically be beginner rides, to introduce riding on streets in a safe way. The rides will meet at the RVA Bike Share Station in Monroe Park, right across from the Cathedral, on the Thursday listed below at 3:30PM, and will leave at 4PM. They will end back at Monroe Park around 5PM. If you need a bike, some may be available for free through RVA Bike Share, but please register below to let us know.
>> REGISTER HERE <<
Fall 2022 City Rides Schedule:
10/6/2022 -- Tiny Parks and Gardens Tour
10/20/2022 -- Thrift Store Tour
Read descriptions of all our workshops here!
---
Mobile Bike Repair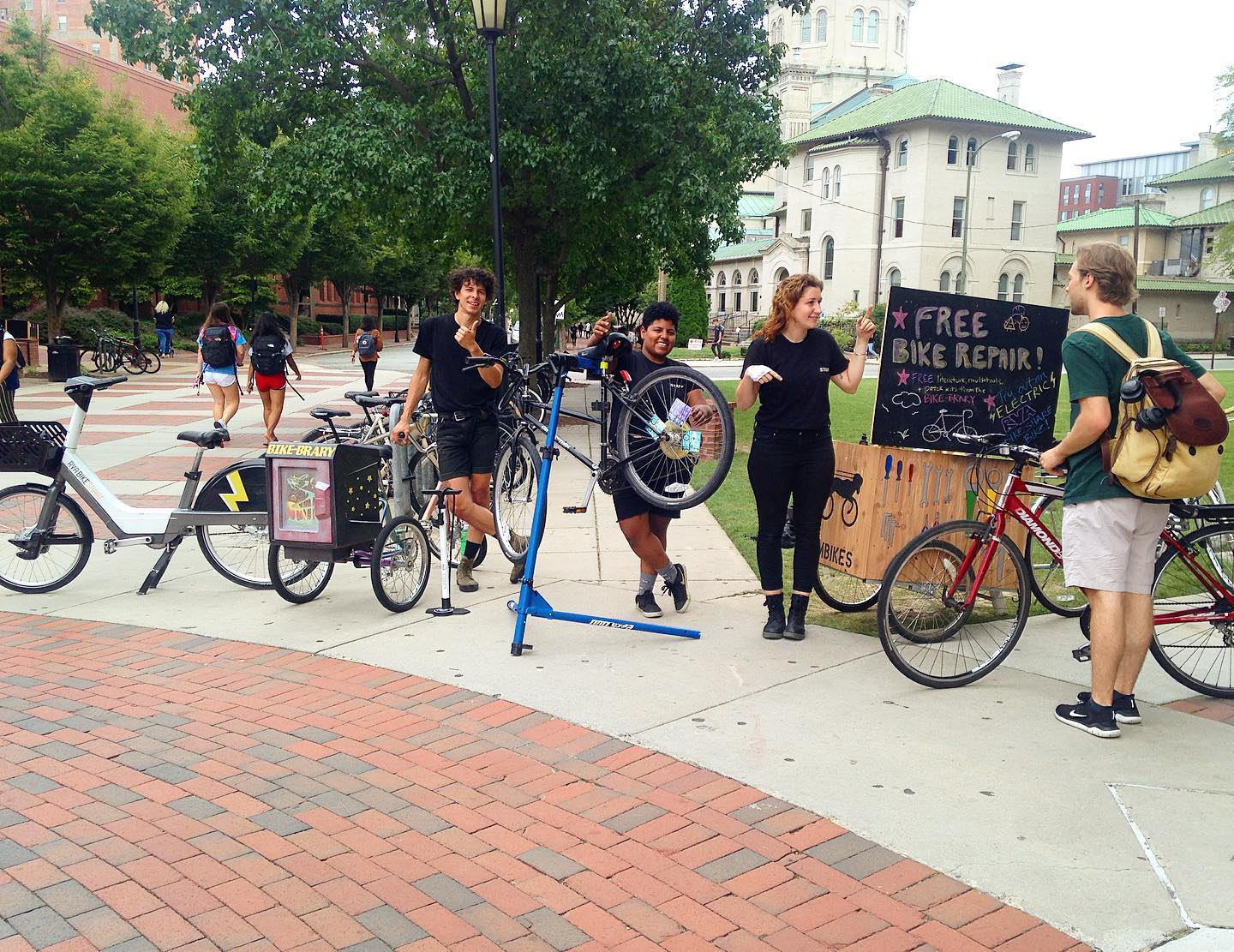 While the weather is nice out RamBikes participates in events and offers mobile bike repair in various parts of the campus and city. A mobile bike repair cart, complete with a home mechanic stand and tools to fix your ride will show up. We also bring with us our Bikebrary, which holds free educational literature on D.I.Y. repairs and cycling in the city, free multi-tools and patch kits as supplies last, and other information about bike resources in Richmond.
RamBikes enjoys participating in VCU events as well as community events or all kinds. If you'd like us to offer mobile bike repair and information at your event please call us at (804) 828-2453 or email rambikes@vcu.edu.